Google's New Search Console Insights
After almost a year of testing, Google has released their new Search Console Insights beta to all search console owners with a verified property. This new tool has been developed with content creators in mind, to help them identify their audience and pinpoint popular topics.
What is Search Console Insights?
It is set to help content creators and publishers develop a better understanding of their audience and the performance of individual content. By combining data from both Google Analytics and Search Console, users will have access to a wide array of information in one place. This convenience will allow content creators to make more informed decisions.
Using the tool, users will be able to discover:
which pieces of content are top performers
which are currently trending
how people discover their site on the internet
what people search for in order to discover their website content
You can expect to see the following when reviewing Search Console Insights. This image has been released by Google to showcase what the tool will look like in app form.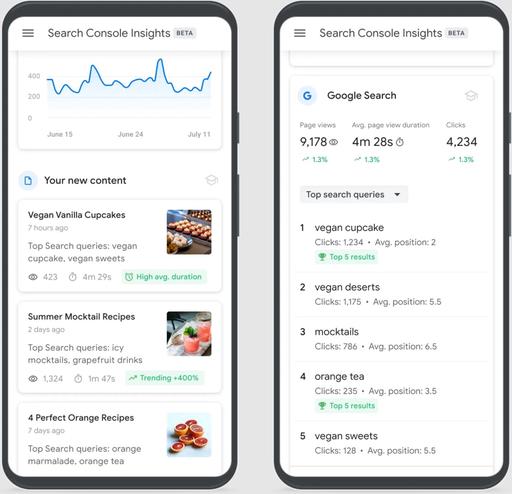 How to Access The New Report
There are a few ways to access Search Console Insights:
Select Search Console Insights from the top of Search Console's Overview page
Use this link to access it directly and save a bookmark for future reference
Coming soon - In the iOS Google App, select Search Console Insights in the account menu (tap your profile picture). Google is working to add Android Google App support.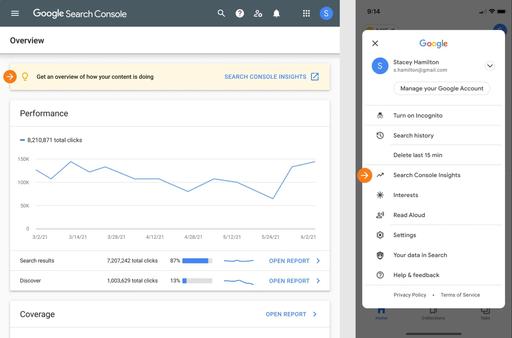 Alternatively, users can access the data by searching Google for a query that they rank for. This will return a Google-powered rich result at the top of the page, titled "Search performance for this query". From this result, users will be able to enter their Search Console Insights platform.
What if I have missing data?
If you're missing data within your report, it's likely due to your Search Console being incorrectly linked with your Google Analytics property. Whilst this link isn't required to see data, Google recommends linking your Google Analytics property with your relevant Search Console property to benefit from more accurate insights.
It should be noted that, at present, Search Console Insights only supports Universal Analytics properties (UA), but Google intends to add Google Analytics 4 functionality at a later date.
Our Thoughts
Google has been busy releasing a number of tools recently, designed to help site-owners and content creators improve the experience they offer to users - Search Console Insights is but the latest of them.
This new tool will be hugely beneficial for digital marketers and content creators alike, as it will allow them to evaluate the success of shared content and develop strategies accordingly.