There isn't a single winning digital strategy that is a 'one size fits all' solution that works for every eCommerce website, but we've certainly come across some consistent elements that play a role in the majority of successful websites. This blog simply rounds up some of the most commonly used tactics and good things that we've used for our eCommerce clients and some that we've come across on other websites.
Social media
Social media marketing has become part of the furniture for online business and an integral part of an engaging and comprehensive digital strategy. It's possible to use social to grow a significant following which is great for referrals. On a more granular level, it also creates microcosmic communities around specific products that are featured on your eCommerce website.
One of our favourite clients Leaderboard Golf use YouTube as an effective platform to engage with people. This recent video is of LET Professional Trish Johnson and comedian Adger Brown introducing Leaderboard Golf's Flexi-Membership:
Google+ is increasingly influential for SEO and has some nifty features that can affect your organic results. Significant examples of the influence of Google Plus include a verified Google Places listing for your business in Google Maps and the knowledge panel on the right hand side of organic search results pages for brand terms. You can see from the below that it's possible to dominate organic results pages for brand terms because of these features: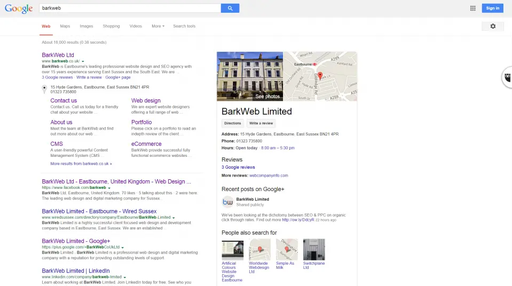 eCommerce web design
As eCommerce evolves, the emphasis on a speedy, smooth user journey has grown and grown in importance. To make things really quick and easy we've recently added Paypal to our eCommerce payment gateway so that guests can checkout without going through the full process of registering an account prior to making a purchase.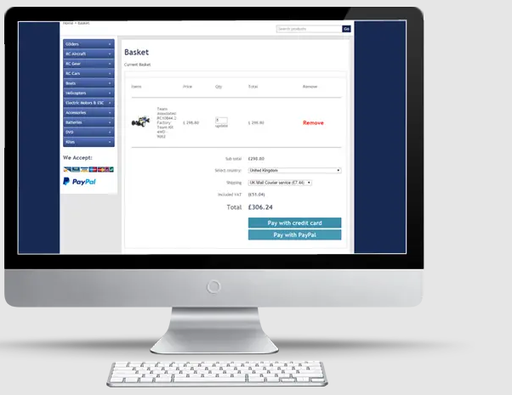 Guest checkout means the user can buy what they want when they want it. By having guest checkout as an option the eCommerce website helps to facilitate impulse sales, improving conversions rates and subsequent ROI.
Personalisation helps to retain repeat visitors and we compiled a list of some of these nice touches that help to retain customers to our eCommerce clients:
Abandoned baskets that stay put so that if a visitor does not checkout before leaving, we remember their basket for when they return so they can pick up where they left off.

Wishlist options so customers can use their accounts to create wish lists of items they want and aspire to purchase.

We display a feed of recently viewed items so that users of the website can easily navigate back to an item which they want to revisit.

Similar items are also a nice touch that matches items that are most commonly bought with other items that the customer has purchased historically. This is a great way to cross-sell across products and categories and helps the customer find useful products which they might not have known about or originally come to your website to purchase.
An effective development team
We've got a close knit team that work across multiple eCommerce clients and because of this we're highly experienced at delivering effective digital strategies for eCommerce websites. Apart from the shameless self-promotion the point is still valid - it's highly important that your eCommerce website is supported by an experienced and knowledgeable team that can identify the 20% that makes 80% of the difference.
We get to know our clients pretty well and because we're small we have a more one-on-one relationship that allows us to get under the skin of a business and properly understand and get a feel for the aims and directions that we need to go with the online stuff. We may be small but by golly we are capable of big impact.
SEO and PPC
An essential element of eCommerce is getting your products noticed in search engines. The concept is simple. You want to be able to provide your products as purchase options to potential customers who are searching for your products at the point of search i.e. be in the right place at the right time.
This topic is a huge one, and likely one we'll blog about in a seperate post soon enough. We'll link to it here when we do. But in the meantime we've boiled the key parts down into a handful of bullet points:
Content marketing your products - it's so important to shout about what you sell, not only on the product pages, but in categories, sub-categories, other product pages, in blogs and videos. Go mad, because it really does help the more you create quality content to do with the key products that you sell.

Geography - look at where you are known, whether it be from sales data or where your web visits are coming from. If you're just starting out maybe focus entirely on your locality. What needs to happen is you need to start from somewhere. Not all eCommerce sites have a huge starting budget, and often it is the careful approach that is the slow-burn to success. Geography applies to both SEO and your PPC - so make sure you're optimised to the key areas of the country, or the world, that mean something to your business.

Shopping campaigns are a really helpful way to immediately get prominence for the products you sell. I would highly recommend running a shopping campaign for all products as early as possible for your eCommerce site, and then go through processes of refinement and updating the products to focus on what works, what is generating the most awareness, what's the best for conversions, and what is the most cost-effective at delivering both clicks back to your eCommerce website and generating revenue.
Attribution
The final bit, working out where your sales came from is a key part of any digital strategy. We don't like to limit our attribution to the last click or only focus on the hard data. We take an holistic approach that means the work we do as a whole creates the outcome. We live by the ethos that the sum of all parts is greater than the whole. Saying this is easy, living by it is a little more difficult - especially when ROI is an essential element of budget sign-off nowadays.
So we adhere to a wide array of attribution models including last click, standard, and first click. It's often a two way process between what we're seeing from your website in our tracking tools and the actual sales data we can get from eCommerce site. We can compare online/offline contributions to sales to get an overall picture of business performance.
Our thinking is it's not about where the customer shops, it's all about customers shopping with your business.
If you want to discuss your eCommerce website, please contact us or call the office on 01323 735800 and talk to any member of our eCommerce team listed above.